This is our first-ever condo deal in Costa Rica…plus, we have exclusive developer financing!
This is our first-ever RETA-only deal in this incredible Eden-like part of Costa Rica, too.
And boy, what this deal offers you…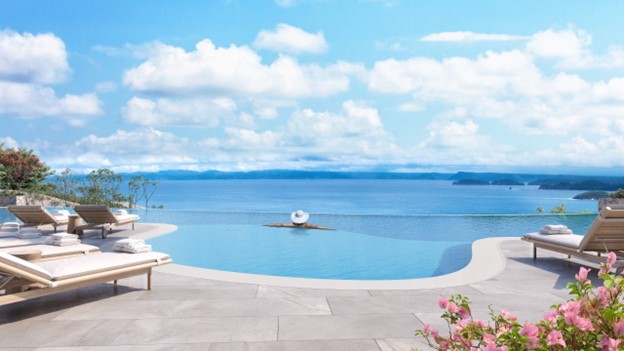 First on the agenda is breakfast on your terrace. The coffee is local. The bowl of mango, papaya, pineapple, and other tropical fruit are from the farmers' market just down the road.
Even more delightful is the panorama laid out before you. The vibrant blue Pacific, glittering in the early morning light.
At this point, you have options. Relaxing in your hammock with a book. The infinity pool for a quick dip. Yoga or meditation at the yoga deck. Anywhere you go, you can drink in that awe-inspiring ocean view.
Azul Paraiso is a stunning community on the northwest Pacific coast, where you can experience the best of Costa Rica in lush, beautiful surroundings…and experience real profit potential.
This was a tough deal to get, and I've no idea if I'll ever get another like it…
• Your RETA-only price is from only $268,400 for an ocean-view two-bedroom, two-bathroom condo.
• We also have a handful of premium condos: three-bedroom, three-bathroom penthouses with commanding views of the Pacific for $442,400. These larger condos are perfect for the families who come to Costa Rica in huge numbers, as well as groups of friends. And remote workers could use that extra bedroom as an office.
• The condo buildings have been designed carefully to maximize the ocean view from every single condo. As a result, in between our get-in price and premium penthouse condos, we have condos at a range of prices based on size and the floor they are on. All the condos are RETA-grade in terms of the potential for rental income and capital appreciation.
We're getting in right under the wire on this one… The conditions that allow us to buy these stunning condos at our pricing that is $130,600…$281,600…$330,600 less than condos around Azul Paraiso will not last.
Driven by an exploding number of expat buyers and investors hitting limited inventory in this booming region, prices are rising. Real estate agents say that they have plenty of buyers…but nothing to sell them…at least not anything as special as our opportunity.
That is our RETA edge at work, securing a killer off-market deal in a prime location even in a well-established and high-priced market like this…and we have incredible profit potential.
I'm predicting condos we can buy for $268,400—our get-in price for a two-bed, two-bath ocean-view condo—will be worth $400,000 just three years after delivery. That's an uplift of $131,600.
Not to mention, with Costa Rica's popularity with tourists…as well as snowbirds, expats, and, increasingly, remote workers…you have options to rent out your condo short- or long-term. And I figure you could bring in as much as $32,500 a year doing both…and still have plenty of time to enjoy your condo yourself…once you've built up guests, referrals, and occupancy rate.
But do keep in mind that, all told, there are only a very limited number of condos available in this deal.
You can get all the details here.